Port Melbourne, you have well and truly delivered some fine brunch options. I am feeling spoilt for choice. Ahh...but choices must be made and brunch at Station St Trading Co. seems to be a choice I keep on making.
Located opposite the peaceful parklands running along the Port Melbourne light rail, you won't stumble across Station St Trading Co. (unless you live nearby) you have to seek it out. And dining away from the somewhat ugly Bay St (well someone had to say it) is just one element that makes Station St Trading Co. such an appealing destination.
As is 'so hot right now' Station St Trading Co. incorporates many pieces of second hand, mismatched furniture into their fit-out. It is a little bit cutesy, has plenty of charm, but the real reason I keep going back to Station St Trading Co. has very little to do with the decor.
It is all about the food. (Well duh!)
Being the kind of person that generally avoids breakfast because of my dislike for breakfast foods, it is nice to find a place that offers something other than Eggs Benedict, Bircher Muesli or a Big Breakfast.
On my first visit, I devoured the Sautéed mixed mushrooms, basil goats curd, poached egg serve on toasted brioche. But I didn't have my phone or a camera on me, talk about a lazy weekend. So this post is predominately about my third visit, when I finally remembered to take photos.
Dan, Victoria and I managed to grab a table upon arrival, albeit it only had two seats. The staff politely grabbed us another stool and informed us that there had been a few large groups this morning, so the service might be slow. (If it was, we didn't notice.)
For almost the first time ever, Dan and I ordered the same thing - the Station St Breakfast stack - and Victoria couldn't turn down the special (Ham hock hash brown).
I should point out that the menu had changed between visits, so it worth keeping this in mind. That or I'm getting confused because of the specials.
And wow, just wow. I can't believe I had never thought of beetroot for breakfast before, but goddamn that beetroot relish made my breakfast stack 'pop'. Anywhere that makes me re-think my own cooking and meal choices stands out as a real winner to me.
The eggs were cooked perfectly and though I donated most of my bacon to Dan, it was only because I'm not a bacon eater. As a whole, the dish was a fantastic combination of textures and flavours.
If I'm going to get picky, the bread was almost too crusty, mostly because it was quite to difficult to cut and the stack kinda toppled over during the vigorous cutting. But I'm really not that picky.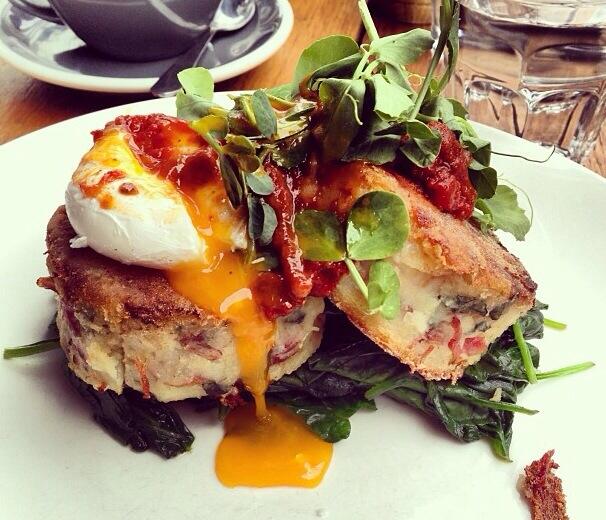 Victoria enjoyed her Ham hock hash brown, though it was a heavy meal for the young lass and she seem somewhat defeated by it. Still... that didn't stop her from trying a Chocolate brownie afterwards, and boy was she glad she did. I believe she uttered the words, in between moaning and groaning, "this is the best chocolate brownie ever".
I cannot think of a single reason why you should not go to Station St Trading Co. From the tucked away location, to the charming set up and exceptional food, everything about this place is appealing. But then if you all of you went, there would be less room for me... hmm, forget I said anything.
- Dani
Name: Station St Trading Co.
Cuisine: Cafe
Price: $$
Location: 166 Station St, Port Melbourne VIC 3207